How Can My Pizzeria Bake Faster and Be Energy Efficient?
Delivering What Matters to You So You Can Deliver the Pizza
From the biggest pizza chains in the world to the mom and pops around the corner, every pizzeria owner wants consistent quality and efficient use of time, space, and energy. Well, CRP and Middleby Marshall have joined forces to change the pizza business AGAIN!
Winner of a National Restaurant Association Kitchen Innovation Award, the WOW!2 line of conveyor ovens allows operators to control baking temperature and conveyor speed, plus independently adjust airflow to both the top and bottom impingement ports for faster, consistent baking and menu flexibility.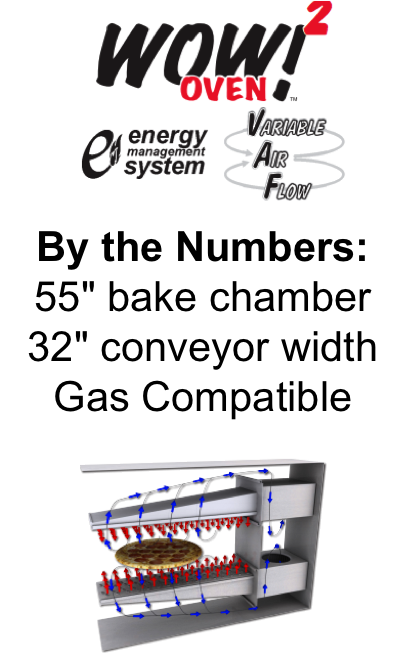 SPEED
– With the advanced technology air delivery system provided by the PS360G, you can bake up to 30% faster than standard conveyor ovens.
ENERGY EFFICIENCY
– The PS360G's Energy Management System automatically reduces gas consumption and reduces energy costs on the very first day of use. An automatic "energy eye" saves gas when there is an absence of food product in the oven. With the same hood, you can reduce energy by up to 30%
USE OF SPACE
– Replace your old PS360S with a new PS360G, or feel free to stack them on top of each other. They can be stacked up to three high. Plus, with the same footprint, you can increase baking speed by up to 30%.
CLEANABILITY & SERVICE
– Access interior oven drip trays from the outside. Also speed up the cleaning process with removable parts including crumb pans, end panels, air fingers, and a folding conveyor belt assembly. The control compartment is also designed for quick and easy access.
SAFETY
– The exterior of the PS360G WOW!2 conveyor oven is cool to the touch and reduces ambient temperature for a safer working environment.
EASE OF USE
– Variable Air Flow impingement technology allows for full control of the air flow on the top and the bottom of the baking chamber for optimal cooking results. It is modified through the main control, allowing instant results and full control of air movement, time, and temperature settings.
FOOD QUALITY & MENU DIVERSITY
– With the PS360G, you can cook an almost endless list of food products including pizza, chicken, seafood, sandwiches, and more. At the same time, those menu items will be created the same way every time for a consistent, quality product that keeps patrons coming back time and time again.
Learn more.
To learn more about the Middleby Marshall PS360G conveyor oven and the entire WOW!2 line, please contact your CRP rep today.
There's a Middleby Marshall conveyor for every situation, regardless of the restaurant's cooking or capacity requirements.